Radiofrequency (RF)
Radiofrequency energy stimulates collagen by heating the dermis without causing any damage to the surrounding tissues or the outer layer of the dermis to firm, tighten and lift sagging skin on the face and body. The energy from the heat delivered to the collagen causes it to shrink, which immediately alters the appearance of skin, while also triggering the production of new collagen. This collagen remodeling helps to make the skin look younger and firmer, tightening loose or lax skin and improving tone and texture.
Treatment Benefits
Skin tightening
Wrinkle reduction
Body contouring
Texture improvement
Cellulite reduction
Acne and acne scar reduction
Traumatic scar reduction
Stretch mark reduction
RF Tightening and contouring for face
Designed by experts in dermatology and RF technology, EndyMed tightening and contouring hand pieces are designed to deliver clinically proven effective treatments across a wide range of areas, providing the most in-demand aesthetic treatments today. An unparalleled experience, all EndyMed tightening and contouring treatments are 100% safe, comfortable and painless, suitable for all skin types and colors. Treatments offer immediate and long term superior results with no downtime.
EndyMed's RF Facial Tightening handpieces are specifically designed for the treatment of wrinkles, tighten and lift sagging skin on the face and neck, including the forehead, cheeks, under the chin and neck. EndyMed's facial tightening handpieces offer superior results, particularly in the delicate, sensitive and hard to treat areas around the eyes and mouth.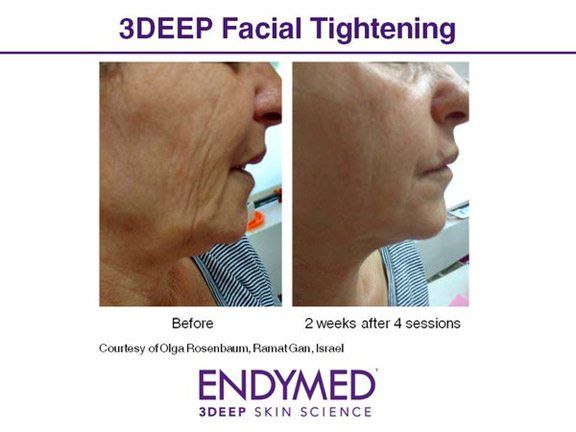 RF Tightening and contouring for Body
The new ontourhandpiece by EndyMed combines the power of focused 3DEEP energy with the benefits of tissue lifting to provide the ultimate in cellulite reduction and body contouring treatments. RF energy delivery and volumetric heating of the treatment area, achieving higher treatment temperatures for superior contouring, tightening and cellulite reduction. This improves blood circulation and allows for better cell metabolism and the elimination of fat.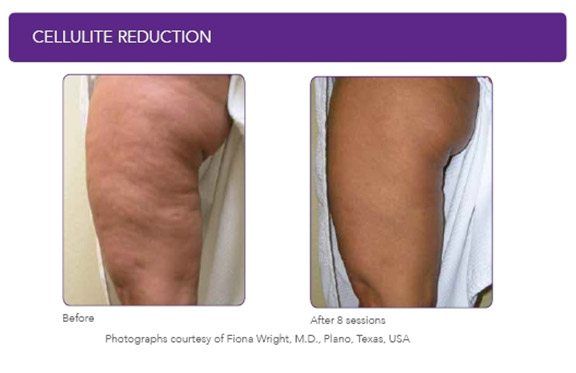 Approach to Treatment
Course of treatment is typically 6 treatments, depending on the patient.  Treatments are given every 1-2 weeks for optimum results.
RF Microneedling for Wrinkles, Texture, Scars and Stretchmarks
Targeted to treat acne scars, deep wrinkles, stretch marks and other conditions requiring deep dermal heating. RF microneedling applies an array of micro-diameter needles to safely and effectively deliver focused RF (Radiofrequency)
energy deep into the dermis, providing a revolutionary collagen remodeling solution for acne scar treatment, deep wrinkle reduction, with minimal discomfort and downtime.
How It Works
EndyMed'sIntensifhandpiece works by delivering short pulses of RF energy through an array of 25 sterilised, gold plated micro-needles. The RF energy heats the papillary and reticular dermis, promoting skin improvement
according to the treated lesion. Multiple adjustable parameters such as depth of needle penetration, energy level and pulse duration enable the physician complete control over the course of the treatment, providing maximum results for each patient, regardless of skin type or skin color and impedance. Throughout the course of the Intensif treatment and for months afterwards, the damaged tissue will be replaced by new, healthy and younger looking tissue. The treated skin will become smoother, tighter and more vital. As most of the energy is delivered directly into the inner layer of the skin, patients will experience minimal downtime and may resume normal activities immediately after treatment.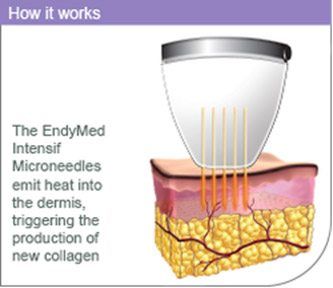 Approach to Treatment
Course of treatment is typically 3-5 treatments, depending on the patient.  Treatments are given every 4 weeks for optimum results. RF microneedling can also work well with other complementary services.