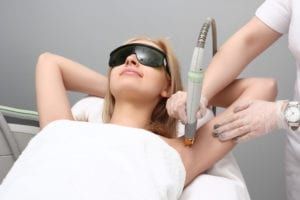 Permanent hair reduction
Gentle, fast and convenient
Long-lasting results
Suitable for all skin types
No ingrown hair, irritated or infected skin
Suitable for larger and smaller areas
How Does Hair Removal Work?
Nd:YAG laser energy is absorbed selectively by the hair bulb and hair matrix, destroying the hair follicle.Laser parameters can be adjusted quickly and easily according to your skin type, hair thickness, hair color as wellas depth of hair follicles. Cooling is applied to maximize comfort during the treatment. Follicles treated in the anagen phase should fall out in approximately 2-3 weeks. Observe if new growth is present and repeat the treatment if needed.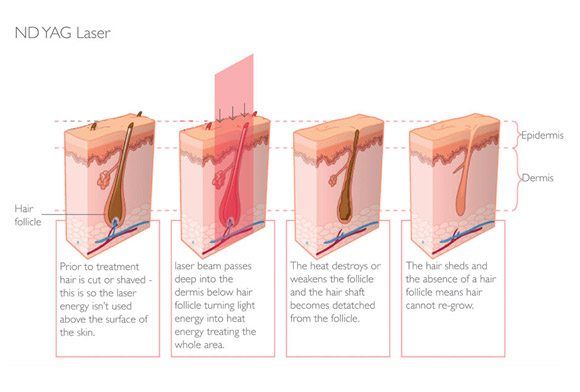 What to Expect
Hair reduction and less visible hair growth with each subsequent treatment depending on your skin type and hair color
An average of 6-8 sessions may be needed in intervals of 4-10 weeks apart depending on each individual's hair growth cycle
You may experience redness in the area being treated which typically resolves within the same day
[youtube https://www.youtube.com/watch?v=JbsWGWHJix8&w=560&h=315]
How to Prepare
Shave 1-2 days prior to treatment
No sun exposure 2 weeks prior to treatment
No waxing or plucking hairs for 2 weeks prior to treatment
Do not use products that increase skin sensitivity for 1 week before treatment
No self-tanning lotion
Post-treatment:
Avoid sun for two weeks post treatment
Avoid exercise, hot showers or baths after treatment
No exfoliation or products that could irritate skin
Treatments Available for Laser Hair Removal: