Chemical Peels
Regular cell turnover and exfoliation are important to healthy skin. With chronological aging, as well as exposure to environmental damage (including UV rays), our desquamation slows. This can lead to a buildup of dead surface cells, followed by an appearance of dull complexion, and compromised skin barrier function. Chemical peels help to accelerate exfoliation revealing even and radiant complexion. Chemoexfoliation from Glytone by Enerpeel utilizes unique acid solutions for specific skin concerns. Our advanced peel systems are characterized by a patented technology that delivers optimal outcomes reducing the usual discomfort and social downtime associated with other peels.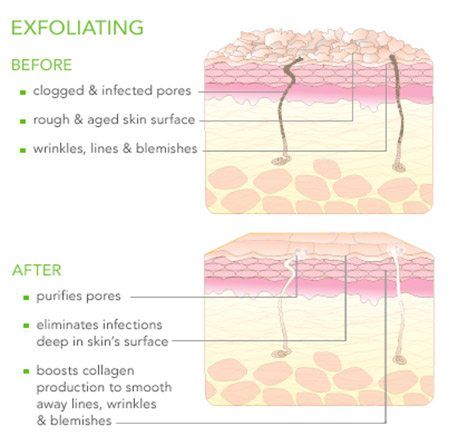 What Can Be Expected With A Procedure?
A peel procedure should take around 20 minutes depending on the type of peel you are having and the number of layers applied. During the procedure, it is possible to experience a mild tingling, itching and heating sensation. These are completely normal and are temporary. After neutralization, these symptoms should subside. Follow post-peel care regimens to experience the benefits of the peel.Every peel procedure will cause some degree of flaking or peeling with varying amounts of redness post-procedure. The degree and duration of flaking, peeling, and redness are dependent upon the acid strength and type. The day after your procedure you may start to feel skin tightness. During the next 7 to 14 days flaking and/or peeling may occur. If you do not experience any flaking or peeling, it does not mean that you will not achieve the optimal results. All peel procedures will cause sensitivity to heat and sun for several days. It is critical to the success of the peel that you comply with post-procedure care requirements. Overall, chemical peels can help to visibly improve the look and texture of your skin. Your skin may feel tighter and look more radiant. Professional peels are designed to achieve better results with each succeeding peel procedure through a series of shorter length procedures.
Who is Chemical Peels For?
Anyone who is looking to address facial redness, acne and visible signs of aging like lines, wrinkles and hyperpigmentation. Talk to your physician to determine which peel system is suitable for your skin type and conditions.
Smoother and softer skin texture
Improved skin tone and radiance
Diminished appearance of fine lines, wrinkles and pore size
Reduction in the appearance of dark spots
What Types Of Peels Are Offered?
Glycolic Acid – Aging Skin
Helps reduce mild to moderate signs of aging
Provides superficial exfoliation 
For patients experiencing fine lines, wrinkles and photodamage
Salicylic Acid – Blemish-Acne Prone
Helps reduce the symptoms of oily, blemish-prone skin
Provides superficial exfoliation
Helps to improve the appearance of acne lesions
For patients experiencing blemish-prone skin with whiteheads, blackheads, papule and pustules
Mandelic Acid – Intermittent or Permanent
Helps reduce occasional/permanent skin redness, minimize mild chrono- or photo-aging and mild hyperpigmentation
Provides superficial exfoliation
For patients experiencing redness, sensitive or reactive skin
Pyruvic Acid -Premature Aging/Acne-Prone
Helps decrease fine lines, wrinkles and other signs of premature skin aging
Provides medium-depth exfoliation
For patients experiencing premature skin aging, acne, seborrhea and mild hyperpigmentation
TCA – Moderate to Severe Aging, Hyperpigmented Skin
Helps decrease moderate hyperpigmentation, fine lines, small scars and coarse wrinkles
Provides medium-depth exfoliation
Minimizes the inconveniences that could be caused by other TCA peels including pain and downtime
For patients experiencing from moderate to severe hyperpigmentation and more pronounced visible signs of aging
Jessner – Premature Aging, Hyperpigmented Skin
Reduce the appearance of superficial hyperpigmentation
Provides a superficial exfoliation Improves the skin tone and brightens of the skin
For patients experiencing superficial hyperpigmentation such as chrono- and photo-aging and sun spots
How Do I Prepare For My Procedure?
Please be sure to follow your provider's instructions associated with the peel procedure.
Before the procedure:
For 10-15 days prior to the procedure, stop the use of all topical retinoids such as Differin® (Adapalene 0.1%), Renova® (Tretinoin), Retin-A® (Tretinoin), and Tazorac® (Tazarotene), as well as any product with drying, irritating and exfoliating agent such as Hydroquinone, Benzoyl Peroxide, Acids, Retinaldehyde and Retinol
Stop the use of any oral Retinoid for 6 months prior to the procedure
Do not wax the areas to be peeled for 10 to 15 days prior to the procedure
Avoid overexposure to the sun (i.e. no sunburned skin) prior to the procedure Accurately and completely disclose your medical history to your provider, including all prescription medications
After the procedure (7-14 days):
Avoid sun exposure by wearing protective clothing and sunscreen
Do not rub or scratch the areas that were treated
Do not pull your skin to facilitate the peeling
Avoid using any products containing Retinoids and other drying, peeling agents
Do not use scrubs or abrasive cleansers
Avoid prolonged contact with water for 12 hours following the procedure unless your physician recommends otherwise